Post by midnightwolf on Feb 8, 2019 11:20:11 GMT -5
UPDATE:
Updating in case anyone runs into the same problem: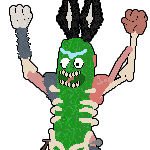 that uh... was the problem. No idea why I had in mind to count bottom up. You count top down :( So many things are becoming clear, even though I don't know how wrong counting didn't mess with the chest/belly but maybe.... it was O.O
CatCreature
-------------------------------------------------
Trying to iron out some problems when breeding this lynx file and I know how to fix everything currently wrong except this one problem. Hoping maybe i can't see the forest for the trees and someone has a solution
I've done everything to make things mutate grouped, including mutating paintballz (started at 0, counting bottom up). Problem is in 2nd+ gen, the order of paintballz for the ankles/wrists don't appear in the right 'order', so what I want at the bottom, is on top.
I thought it was the paintballz not mutating right when this one came out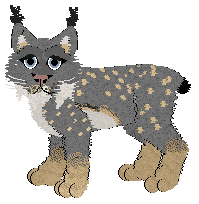 (ankles/wrists are 2 layers of the same set of paintballz (tattoo) slightly offset from each other, one cream set, one grey set)
but I deleted the biggest cream paintball (unneeded anyways) and saw that the cream set of paintballz (supposed to be on bottom) is appearing on top of the grey paintballz
(i know bout the whiskers and other problems dont worry about those xP)
easier seen on PWS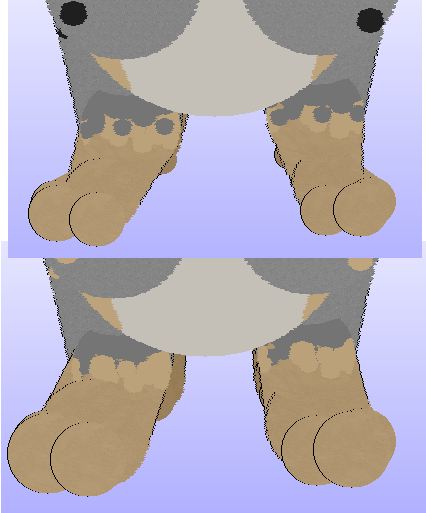 top's breedfile, bottom is 2+ gen .pet
further confirming that's what it's doing in the LNZ .pet file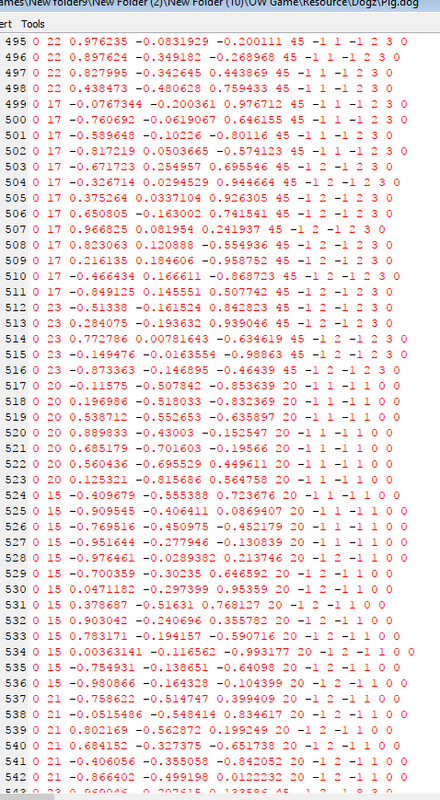 Looking at the ankle it shows the 45 cream paintballz are on top of the 20 grey, when in the breedfile they're below the grey.
For the breedfile they were first listed (starting from top):
-L ankle grey-
-L ankle cream-
-R ankle grey-
-R ankle cream-
-L wrist grey-
-L wrist cream-
-R wrist grey-
-R wrist cream-
that i switched to:
-L ankle grey-
-R ankle grey-
-L wrist grey-
-R wrist grey-
-L ankle cream-
-R ankle cream-
-L wrist cream-
-R wrist cream-
Both seem to have the same result
It seems to happen intermittently with the jowlz too, either not happening (rare) or happening to just 1 of them. Doesnt make much sense since the underside is 3 layers and they never switch up.
I quadruple double triple checked the mutating paintball list and all wrists/ankles/jowlz start at 0 (counts up the list), end where they should, and cream and grey are not in the same lists (i'd post it here but it looks like a mess and means nothing without the rest of the file anyways but i can if needed)
I can always change the blend design for it to not matter so much but it would be cool to figure out why it happens, in case there's a future file that i can't do that with. (and i also don't want to recount and organize for mutations :( )
hopefully everything made sense, I'm really confused myself. If there's a solution posted somewhere feel free to post a link. Appreciate any advice. Wouldn't mind sending the file over to someone who knows what they're doing (it's not labeled the best but it's organized) if it helps. I'm hoping it;s just somthing stupid I did because I was tired or something