Post by Pya on Jun 17, 2016 19:17:43 GMT -5
Day One

-Name your new pet
-Why'd you name it that?
-What do you think of your new pet?
-What personality does it have?
-Find your new pet's favorite food
-Find your new pet's favorite toy
-Introduce your new pet to the pet you picked to take part
-Why'd you pick this pet to take part?
-Give background information on the pet you picked to take part. Where'd you get it? Why'd you get it in the first place?
---
Day one!
I got my chosen pet out (previously called Dog1 xD) and out he came.
And...
He barked at me.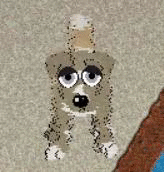 And he barked at me some more..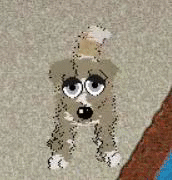 And a little bit more...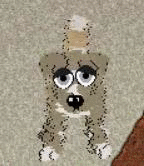 It was the typical hilariously high pitched puppy yip, over and over again while looking straight at me, so i decided this is the perfect name for him, Yip Yip.
He eventually stopped, a good one-two minutes later, so i got out some toys for him.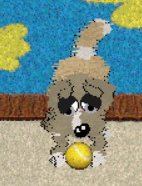 He went ahead and sniffed + tasted every one of them (exception being the softer toys, such as the leprechaun and the soft noisy one), and decidedly stopped right there in the middle of them and took a goooood glance at each one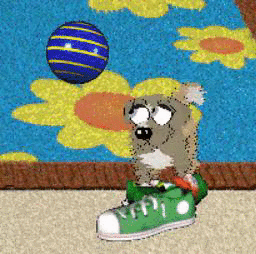 Then he moved towards the next group of toys, glanced a bit at all of them (as well as the nice adornments on the wall), and decidedly sat down for a good lick/scratch. It seems the lick and scratch is one of his default behaviors. He's a very serious pup.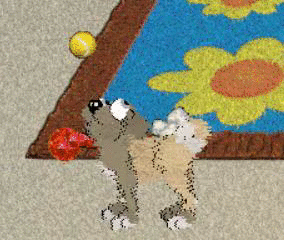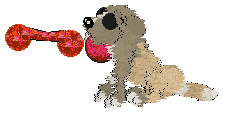 A very serious puppy, truely. It appears toys are beneath him.
He did go for the blue circus ball eventually,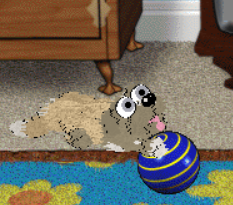 ...but it didn't take him long to go back to his default "serious pup" style.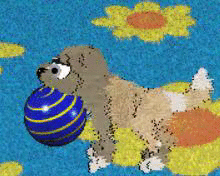 But for a bit of fun, here's his "not-so-serious" side. Yes, he has one

.

So much play (or rather, so much seriousness) ended up with him being quite the tired pup, so right then and there, he plopped for a good nap.

Quite an adorable, regular looking sleeping pup, right? And then.
Then!
He turned around! Or better yet, he turned into a potato!

Definitely the cutest potato there is

.
Moving on, after his comfy siesta, i came to the conclusion he likes balls.


No leprechauns please, it's not the right time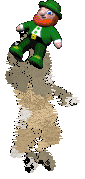 Besides that, he wasn't very into games or toys, so i decided poor thing must be hungry after so much seriousness and so many balls!
To the kitchen we go!
I decided to offer him a wide variety of food types, from left overs, to dog food, to fish and different types of baby food.
Turns out the bug trap is more attractive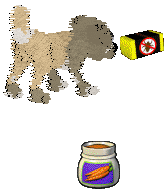 Once he got over his intense bug trap interest, he bounced back and forth between ALL of the dishes (except the regular baby food, he didn't even look at those; Yip Yip says: baby food is NOT dog food!). He also enjoyed the baby carrots!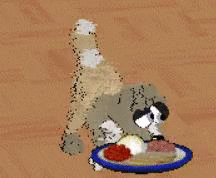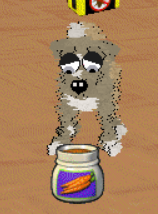 But ultimately, none of these were good enough, so he went for the good ol' regular dog food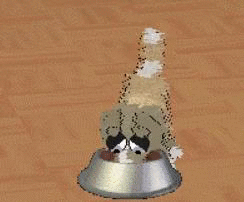 And this one is a favorite! He didn't even take a single break, he flat out finished that food without stopping for a second. Now that's true passion

.
~Yip Yip says, baby food is indeed not for dogs!~ He's truly quite the serious pupper.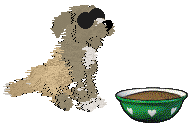 Meanwhile, with a full stomach, he decided the watermelon and the fish are merely play things, and nothing else.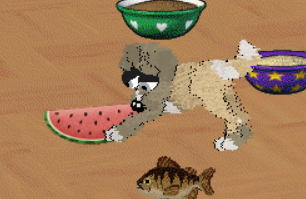 This was a good opportunity to get him to the play room, but not before he gets a cookie for being a good pup and finishing his meal.

Off to the playroom we go!
We did a bit of training, including bouncing on a rose (it's an all-time favorite right?) and perhaps even a bit of air bouncing. The rose didn't always cooperate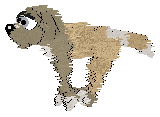 All this bouncing and balancing on the poor rose got little Yip Yip tired and unfocused..

...and as such, it was time for another good nap.
He went ahead and fell asleep on his now favorite little blankie
I gotta say he's absolutely adorable sleeping curled up against the yellow towel.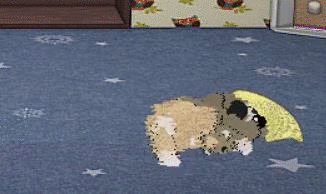 Once he finished his second nap i decided to introduce him to Grapefruit, whom i received from Bohčme (honestly? I'm not sure what the actual forum name is
, I'm sorry! I got her a while ago and didn't get around to REALLY get to know her!). I adore her color combination and pink eyes, she's all together really beautiful! I picked her because well, she is really pretty and I've been meaning to actually play and get to know her personality, but also because she's very similar in both appearance and age to Yip Yip. She seemed like the perfect play partner for him!
She's a joyful and playful girl so all chances were for them to become play buddies!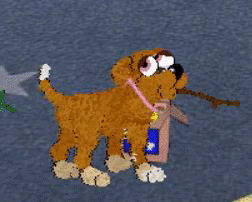 They did the usual playmates fight, complete with rough housing and jumping on eachother...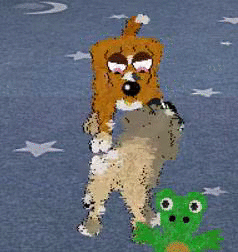 ..So Grapefruit decided to take cover and hopped straight to the basket..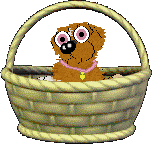 ...which happened to be high up on the shelf! Yip Yip is afraid of heights so she's definitely crafty when it comes to finding the right cover place haha.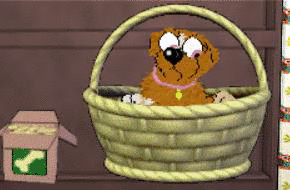 All this charade didn't last long though, because soon enough, Yip Yip decidedly became a romantic little lad and invited Grapefruit for a game of toss-the-rose while sitting on the heart pillow!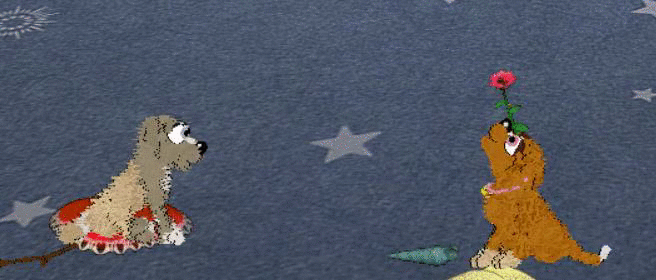 They also played a bit of tug-o-war with the stick..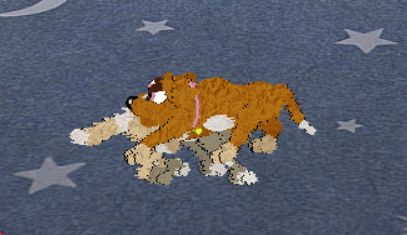 Which turns out to be Grapefruit's favorite game..
.. so much, that she decided to invite Yip Yip for another game.. only to be flat out
rejected
.
This turned into the most hilarious moment I've ever accidentally caught in a gif.
A sad Grapefruit lays down suggestively, while Yip Yip stares long at her......
...until he gets tired of all the drama and...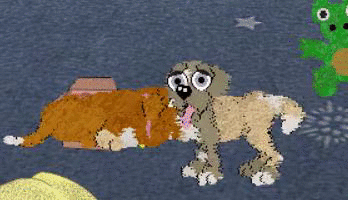 And literally
slaps
her out of it, effectively throwing the stick out of her mouth.
I find this waaay too hilarious because i didn't expect that to happen xD.
And it worked too! She snapped out of it and returned to being her playful self.
Take notes my friends! The romantic Yip Yip is here to give y'all lessons on making someone feel better

So, to end this entry on a positive note, here's a very
serious
Yip Yip