Post by Barguestspirit on Sept 21, 2007 15:18:06 GMT -5
SCP Swapping: A Visual Tutorial
By Barguestspirit
Okay, so this is a little tutorial for changing the "SCP" or personality in breed files. This tutorial includes screenshots of the steps, which should better explain the process for those who are visual learners like me.
Would you rather that labrador file you hexed have a bulldog personality? Jack russel with dali personality? Or how about an alley cat with calico personality? Well, this tutorial will show you how to do that.
You will need:
-LNZ pro from Sherlock Software.
-Backups of the breed files you're working on (just in case)
-Make a new folder (I made mine in the main Petz 4 directory, but you can do it where you'd like.) and label it "SCP" or "Personality files", whatever you choose.
For my example, I am going to give my great dane file a poodle personality(why? because it's funny!), but the same steps could be used to swap the SCP in any dog or cat breeds. Also, I am using Petz 4 for this tutorial, but this will work in 3 and 5 as well.
First, I open up the poodle file in LNZ pro. This is the file I'm going to get the SCP from to put into the great dane. So if you're giving, for instance, a calico a tabby personality, open up the tabby breed file first.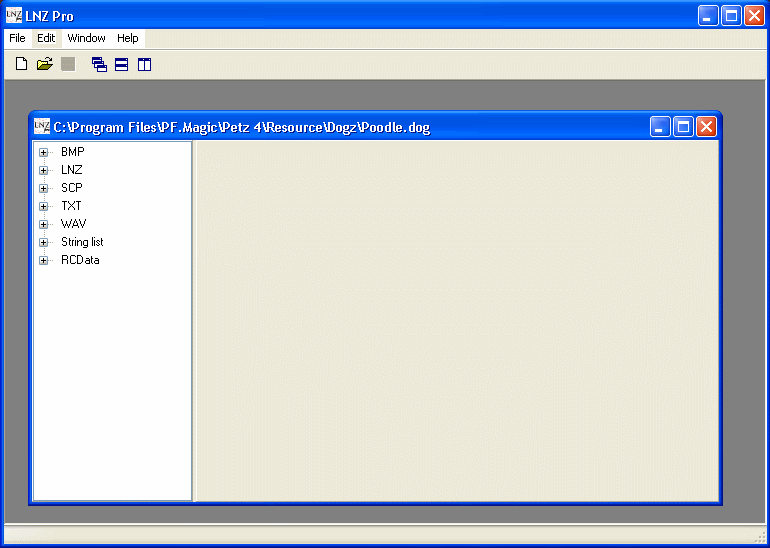 Simple so far right? Okay, see where it says "SCP" right underneath LNZ? Click the little box next to it. This will expand the "tree" like so: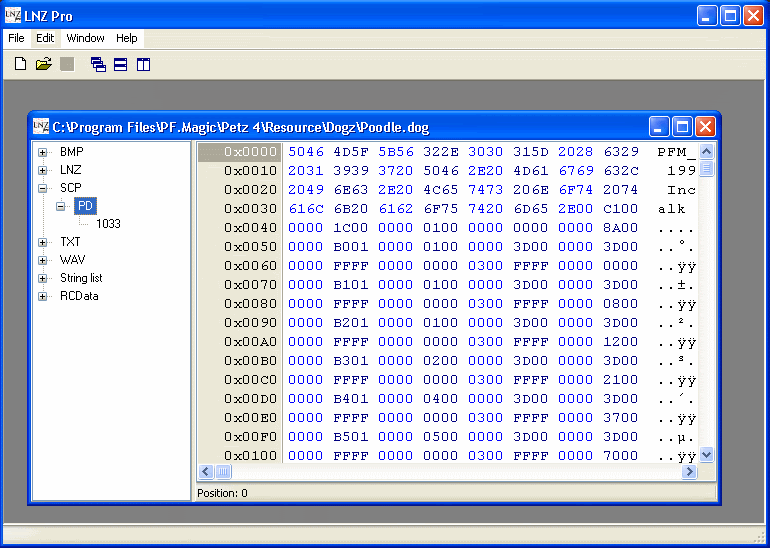 In my case, the new section is called "PD", but the letters will differ depending on what breed file you are using. This is the poodle's SCP. I'm going to click on "PD" to highlight it, then right click (or you can click on the "edit" command in the menu bar) to bring up a box with a list of choices like this: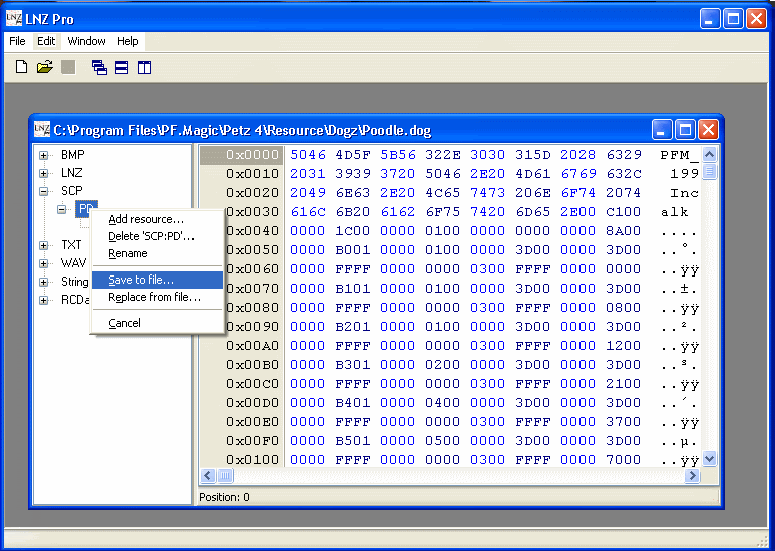 Choose "Save to file".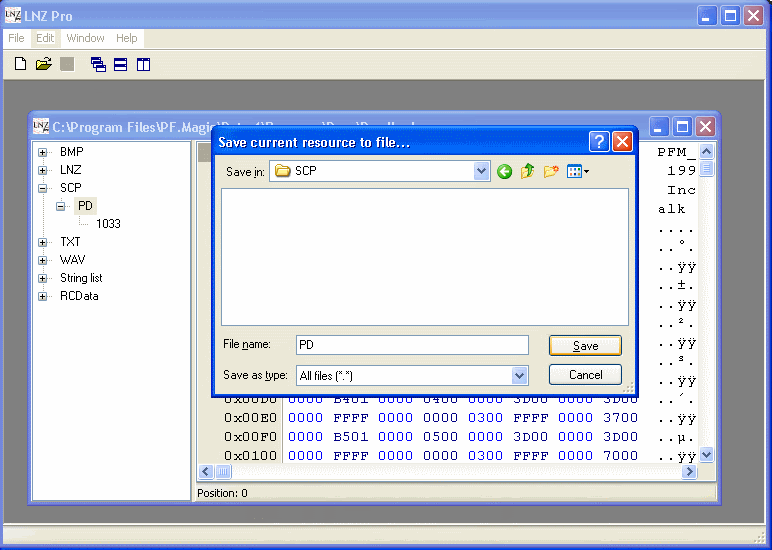 Remember that folder I told you to make? This is where it comes into play. Find that folder (in my case, it was in Program Files/PF.Magic/Petz 4) and save your SCP file as "PD" or whatever two letters you got when you clicked the box next to "SCP" (ie; SD for sheepdog, DM for dalmatian, AC for alley cat, etc.)
Okay, halfway done!
Now, open up the breed you'd like to put the new SCP in. In my case, it's the great dane. Once again, I'm going to click the box next to "SCP" so that it expands the "tree" to show me the personality section. In this case, I get "GD" for the great dane. Click on it to highlight it.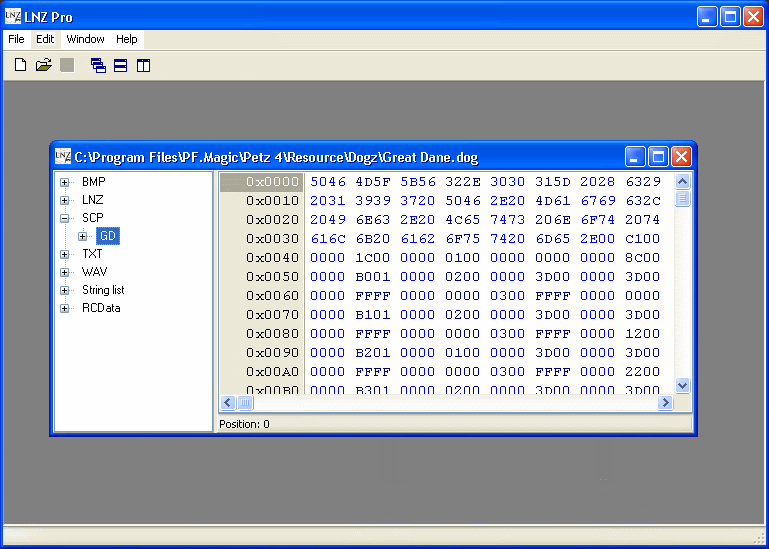 I'm going to right click on "GD" (or click "edit" in the command menu) just like we did last time, except now I'm going to choose "Replace from file".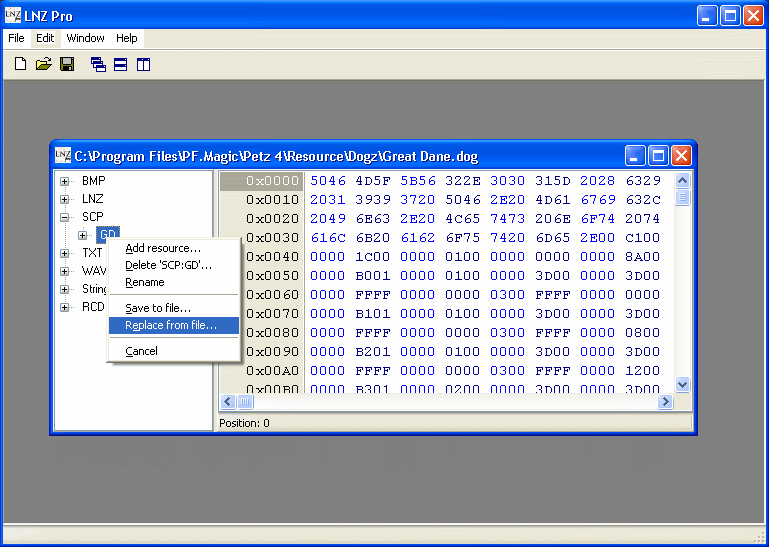 Remember when we saved the personality from the first file into our newly made folder? Well, now we're going to use it. So find your "SCP" (or whatever you named it) folder.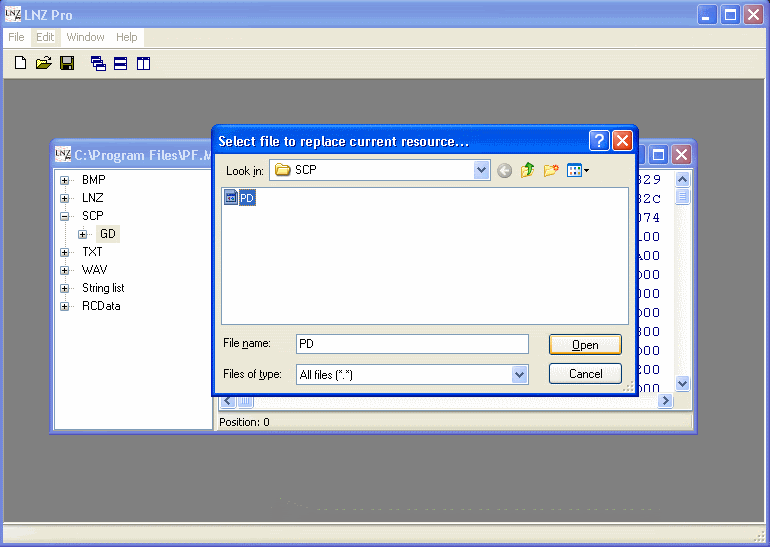 There's my "PD" that I just saved from the poodle file, so now I choose it and click "open" so that it'll swap that new SCP info into my great dane breed file. Save, and that's it! We're done! So now I can start up Petz 4, and bring out a very snooty great dane.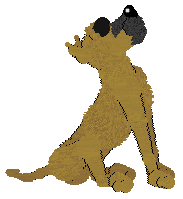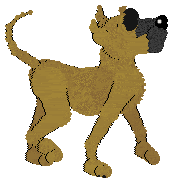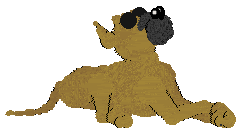 Bwahahahahahaha!!
Now wasn't that easy? That's all there is to it. Also note that these steps work for other things, like changing BMPs.
I hope this tutorial was helpful and easy to understand. I tried to make it as clear as possible. If you have questions or would like to add anything, feel free to ask.
For reference, here's a list of the letters for the different breeds:
Dogz
Bulldog=BD
Chihuahua=CH
Dachshund=DH
Dalmatian=DM
German Shepherd=GS
Golden Retriever=GR
Great Dane=GD
Labrador=LR
Jack Russel=JR
Mutt=MT
Papillon=PA
Pig=PG
Poodle=PD
Pug=PU
Scottie=SC
Sheepdog=SD
Catz
Alley Cat=AC
Black & White Shorthair=BW
Bunny=BN
Calico=CA
Chinchilla Persian=RD
Desert Lynx=DL
Egyptian Mau=EM
Honey Bear=HB
Japanese Bobtail=JB
Maine Coon=MC
Orange Shorthair=OR
Persian=PR
Russian Blue=RB
Scottish Fold=SF
Siamese=SI
Tabby=TA