Post by keyglyph on Feb 4, 2022 0:11:14 GMT -5
UPDATED 2/21/22
Hey friends! After noticing discrepancies between the hex color values in Petz color charts vs. what I was getting from in-game screenshots and GenePoolz samplings, I've learned from several members here that colors display differently depending on your operating system. Seems obvious now, but at the time it surprised me! (I'd just assumed we'd developed a standard for this in the graphics world.)
I had initially set out to create a chart of each color's hex value from my GenePoolz screenshots, then thought to ask this community for help in that effort... but with the compounding issues of 1) differing OS palettes and 2) programs seemingly displaying different hex values for the same colors, the situation got really confusing for me (see thread below).
But thanks to the hard work of all in this thread, I've completed the chart below with the hex color values sampled directly from the palette extracted from Petz4. It includes all possible fur, eye, and eyelid colors. I used the graphics program GIMP 2.12.20 to eyedropper colors and am running Petz4 on Windows 10 64-bit. (If I've learned anything here today, it's that other charts will need to be made for alternative OSes!)

Immense thank-yous to
Bunni
,
Thor
, and
Amanda
for explaining the color difference situation regarding operating systems, and especially to Sharon for creating Pal-ette (which is brilliant and led to a lot of revelations) and for providing step-by-step instructions for extracting the color palette directly from the game's exe file.
THE CHART
Windows 10, 64-bit
Petz 4
EDIT: BBCode was driving me bananas, so here's a screenshot of a table I threw together in HTML instead.
*NEW*:
I tossed the HTML table up
here
on my tiny slice of Petz-related internet so values can be copypasted for anyone's use.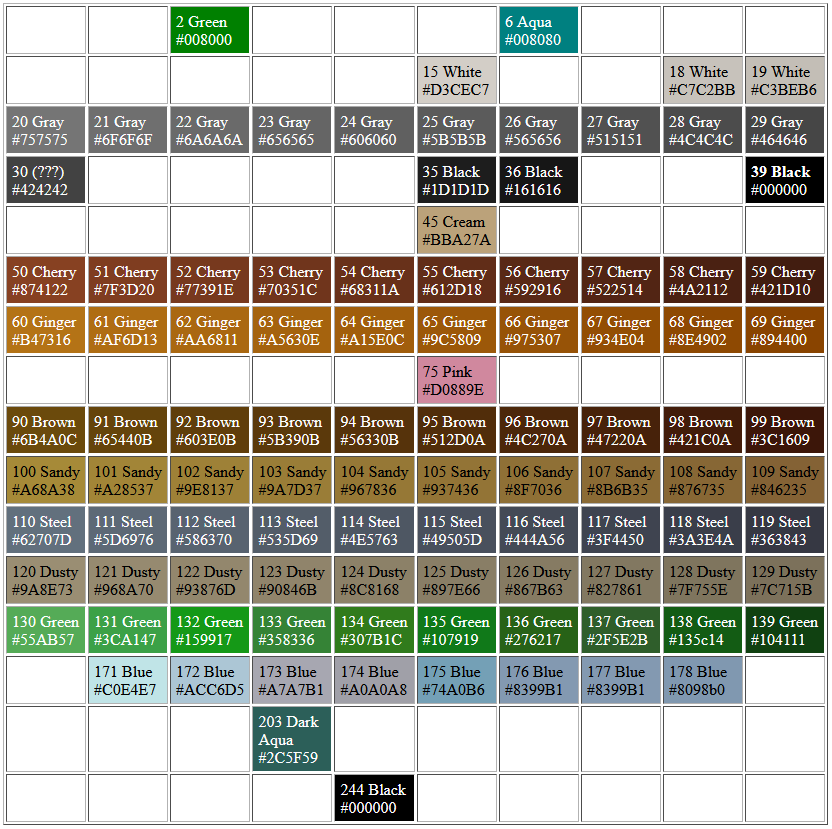 ---
ORIGINAL POST
Hey folks!
Quick question. I've been searching the forum and the internet at large in the hopes of finding accurate hex values for the eye colors in Petz 4. Does a master list exist somewhere? I've got to be overlooking it.
I ask because I've seen the color charts provided by Crushing and also in the Petz Editing Manual by Carolyn's Creations, but when I sample those colors and compare them to the hex values of color samples from Genepoolz, the values don't match. I've confirmed that the values in Genepoolz match the ones expressed by my Petz themselves, however.
If we have a resource for the hex values, could someone point me to it? It would be much appreciated. Thanks!