Post by Thor on Jul 3, 2019 10:35:45 GMT -5
Wes
I often, probably like many of you, multitask while I am at the computer. I had RKC open and was browsing some of the newest threads while trying to pose a cat, and respond to another thread on WW.
smonikkims
has some lovely adoptions and I typed up all the info required for the one I wanted, but then just started doing something else. I come back to the post 30 minutes later and finally hit the Reply button only to realize several people had already posted (I'm not used to RKC not warning me ehehe but I also shouldn't wait 30 minutes to post) and someone had alread adopted the one I wanted. I wasn't super bummed, but I was embarrassed. I quickly edited the post (shoulda deleted my post but some forums you can't so I didn't think I could here whoops).
CatCreature
noticed and was really insistent I tell her the cat I wanted which I thought was an incredibly sweet gesture so she gave the cat over for a playdate and I fell in love with him (thank you!). He's got this little girly cat voice, and loves to play: always wants you to throw the ball and play with him instead of playing with a toy alone <3 He also likes to run and chase but trips on himself constantly.
I decided he'd make a lovely show cat! And to show him off more since he's a special gift (which is also reflected in his showname). I really love his colors: gray with red points is so unique, plus his white whiskers and matching eye colors, selfie lids <3 I know he's missing a face patch so he was given away on RKC rather than sold on PUGs/TFM, but he's still an ultra cutie! Also he's a mini-ish Skinny Persian! What's not to love? <3
Breed
: Mini Skinny Persian Mix (Chinchi Personality type)
Gender
: Male
Born
: 6/5/2019
Bred by
:
smonikkims
Adopted from
:
CatCreature
Adopted on
: 6/6/2019
Show Card
PetalDown's From a Friendly Cat
"Wes"
Supreme Grand Champion (SGCh)

36 Points
BIS: Arie's EBW catz show #94 at WW
1st: Sawyer's first ever EBW Catz Pose Show! at RKC
BIS: Arie's EBW catz show #99 at WW
BIS: Inaugural WW Wingwreath EBW Catz Pose Show 12/07/19 at WW
2nd: Commander's EBW Catz Show #120 at RKC
BIS: Arie's standard catz show #63 at WW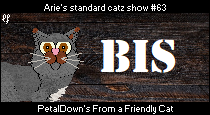 HM: Alex's Catz Pose Show 7.18.19 at RKC
1st: Inaugural Wingwreath Standard Catz Pose Show @ RKC
1st: Alex's Catz Pose Show 7.23.19 at RKC