Post by midnightwolf on Jun 10, 2016 21:03:36 GMT -5
Things
are too quiet on the forum so let's do a gameplay contest.


What's a gameplay contest?
A gameplay contest is meant to get back to the game basics. You complete specific tasks, while recording them with pictures and text. You can keep your day entries on a website, or a Pix of Litter topic.
You can't use PetzA
.
Example
Day One
-List tasks
'Name your pet'
'Introduce your new pet to another pet'-
[picture]
I named my pet Fluffy because_____
[picture]
I introduced Fluffy to Fido. Fluffy seemed to like Fido because___ but Fido_____ [explain what went on]
Rules
1. NO PetzA/Brainslider/Forwarding time. Not even to feed them! No aging up, or lowering neglect. DON'T EVEN LOOK AT IT. o.o
2. Any petz version is welcome. (Petz are bred in p4, so work in all games)
3. While you don't need to complete each day one after another, you must complete each day before moving on to the next. (As an example, Sunday you complete and record day one, and Wednesday you complete day two) Do not complete two days of tasks on one day.
4. Judging is based on how you completed the tasks, how you recorded, how much time you put in, and what you did.
5.
Please don't join just to adopt a pet and leave/drop out. :/ That's not the point of this.
6. If your pet ends up growing up and having offspring, feel free to have it born instantly if you'd like to include the offspring in the gameplay. Do not use PetzA to breed though!
7.
If you've entered any of my past gameplay contests and never finished, please don't take part in this one.

8. Since the prizes involve my personal hexies, you must have at least
100 posts
to take part.
9.
You can enter up to July 3rd. That gives you exactly 7 days to do the gameplay.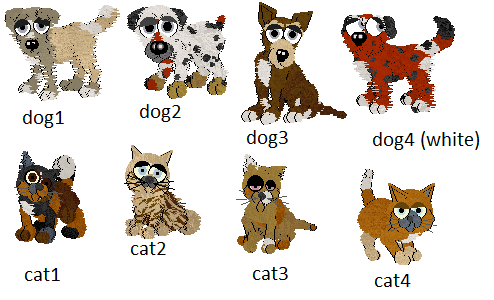 Taken
: dog1, dog2, dog3, dog4, cat1, cat2, cat3
Please post if you're interested in joining, but all the petz are taken. I will breed you a RANDOM pet. You may pick the species.
You'll be picking ONE of the above petz to take part in this gameplay. (If you don't want the pet after the gameplay, feel free to send it back. I know my breeding skills aren't the best) DO NOT GENDER CHANGE. Renaming is ok, and a must. xD (Doubtful, but if more than 8 people want to enter, I can breed more petz)
Next
While the gameplay will be centered around the guys posted above, pick
one
of your own petz to always take part. So you'll be having two petz going through this journey. Make sure you record both of them, and be sure BOTH petz are out at the same time. Even if they hate each other. (Unless you absolutely just can't handle it)
Prizes
*
First Place: 1 custom hexie, or any
available
or
limited
from my archive
Second Place: 1 hexie
available
or
limited
from my archive of your choice
Third Place: 1 hexies
available
from my archive of your choice
*this includes any future hexies added during this contest
Form
Email:
Pet to Adopt:
Your 2nd Pet:
Link to Entry:
Ends
July 12th, 2016. I'm running another event elsewhere, trying to move, working, etc. So the end date is more for myself than you. :D If everyone finishes before, I'll judge before.
Tasks
(Make sure to include your choice pet)
Day One
-Name your new pet
-Why'd you name it that?
-What do you think of your new pet?
-What personality does it have?
-Find your new pet's favorite food
-Find your new pet's favorite toy
-Introduce your new pet to the pet you picked to take part
-Why'd you pick this pet to take part?
-Give background information on the pet you picked to take part. Where'd you get it? Why'd you get it in the first place?
Day Two
-Go to the beach. Make sure you dress for the occasion.
-Are your petz getting along?
-Are you happy with your choice of pet to include?
Day Three
-Go to the backyard and plant some things.
-Try on some new clothes. Any your pet preferred? Hated?
-What did they look best in to you?
Day Four
-Visit the snow scene. Remember to dress for the weather.
-Play with both petz indoors after the snow scene.
Day Five
-Try to teach your new pet some tricks
-Visit any playscene dressed up
Day Six
-Decorate the Family Room
-Visit the South Seas. What'd you find there?
Day Seven
-Wind down by staying in and playing with some toys.
-How did everything go? What'd you learn about your new pet? Do you think you'll go back to PetzA, or keep playing this way?
*Some files are quite large because I don't trim petz. Feel free to trim them though.